Slideshow photos: Pierre Pallez
NINA BRADLIN (US)
"From melancholy to feisty with a touch of Marilyn Monroe..."

Nina Bradlin is a singer, songwriter, actor and director, from Detroit, Michigan and based in Basel, Switzerland. She was born into a musical family: Her mother played the bassoon, the organ and the piano and her brother is a blues bass guitarist. She was influenced by Joni Mitchell, Judy Collins und Linda Ronstadt. She released her fourth album "Home Again" in 2020 with a bombastic concert featuring the finest musicians at Parterre One in Basel, Switzerland. You can hear tracks from "Stardust," her homage to Cole Porter, Irving Berlin, and Leonard Cohen on Radio Swiss Jazz. Songs from her second album have been featured on Radio Swiss Pop ("Right Where You Are") and Radio SRF2 ("Dreams Grow on Solid Ground") and Radio X in Basel ("Martha"). In January 2017, Nina performed to a standing-room-only audience at the Birdseye Jazz Club with her band of Basel's finest jazz musicians. Her voice has been described as "silvery and clear, yet dramatic" or "sensitive, intense and sultry". With her sensual voice, accompanied by a brilliant jazz quartet, Detroit native Nina Bradlin sings of love, desire and other passions.

Nina is also no stranger to the stage: In fact, it was her role in the rock n' roll musical "Return to the Forbidden Planet" in 2006 that was the impetus for Nina's foray off the stage and into Basel's music scene. She has also performed in the musicals "Rent" and "Cafe Brel" and most recently in the highly acclaimed sold-out musical revue "Side by Side by Sondheim". Nina can also be seen in the Swiss films "Oboleo", "20 Regeln für Sylvie", the upcoming film "Neutral," and the short films "The Vault," and "Digital Evidence".


Nina Bradlin & Band

Yuri Storione (IT), Nina Bradlin (US) , Claudio Bergamin (CH), Dominik Schürmann (CH), Michael Turtle (UK)






MICHAEL TURTLE (bandleader/co-composer/drums)
was born in Croydon, Surrey (UK) 1960. Michael Turtle started playing and writing music at an early age. 1978 to 1981 studied percussion under James Blades at the Royal Academy of Music in London, as well as piano and composition. Also at this time he was playing with the Royal Philharmonic Orchestra and 60s pop legend Kathy Kirby. In 1983 he recorded a solo album at home. Since coming to Switzerland in 1988 he has worked as a drummer, pianist, bass player, programmer, arranger, composer and producer, with such artists and projects as Dust featuring Jessica Knoll, Wake Up 93, Le Prince (musical), It's Five to Twelve, Thomas Moeckel, Danü Sigrist, Bonnie Jeanne Taylor, Emmanuel Bex, Natacha, Fernando von Arb, Rob Reynolds, Oskar Klein, Whysome, No Angels, Monika Miller, Sue Mathys, Andrea Viaricci, Tea 4 Two, Dean Whitbread, Rinalda Caduff, Sacred Cow, Willie Nininger, Vince Benedetti and Nina Bradlin ("Right Where You Are").

CLAUDIO BERGAMIN (trumpet)
studied from 1997 to 2001 at the Academy of Contemporary Music in Zurich with Kalli Gerhards und Erwin Lorant. From 2001 to 2004 he studied at the Basel School of Music, Jazz Department with Thomas Moeckel. 2008, he continued his studies with Vincent Herring and Jeremy Pelt in New York. Claudio Bergamin currently works as an independent musician and composer in various music genres and bands, for example in musical theater productions, big bands, salsa and pop projects. Since 2009, he has been in the band of the winter circus Salto Natale production directed by Gregory and Rolf Knie. In 2011, he won the Swiss Jazz Award with Alexia Gardner & offbeat Trio




DOMINIK SCHÜRMANN
(bass)


was born in Basel and has performed countless well-known jazz clubs in Switzerland and around the world and in many international jazz festivals.He brings this vast experience to his work in countless national and international formations, including the Thomas Moeckel Trio. In his performance, his passion for music, his sensitivity, harmony, perfect timing and experience characterize him. He has accompanied Oscar Klein, George Gruntz, Karl Ratzer, Adrian Mears, Adam Taubitz and many others and is also in demand as a soloist. He has also performed in theatre productions, on TV and on the radio and in countless recordings, also with Thomas Moeckel as well as his own projects.

YURI STORIONE (piano)
is a young, up-and-coming piano performer and composer with a classical background. He has played the piano since he was 4 years old. He was one of three finalists in the "Montreux Jazz Piano Competition 2015" in Switzerland and graduated from the Berklee College of Music Valencia with a Master degree in Contemporary Performance. He is currently enrolled in a 2nd Master
Program – Jazz Piano Performance at Basel's Hochschule für Musik – Jazz Campus studying with Hans Feigenwinter. He has had the tremendous privilege of learning from one of his heroes:
his mentor Beka Gochiashvili. At Berklee College he studied as well with: Perico Sambeat, Polo Orti, Victor Mendoza and has played in several jazz festivals and important events around Europe
such as: L'Estartit Jazz Festival 2015(Spain), Slovenia Jazz Fest, Laeso Jazz Fest(Denmark), the annual ''European AEC Jazz & Pop platform meeting 2015'' and for some ''Yamaha-Spain's''
events. He released his first album as bandleader in trio format ''Schönbrunn' recorded with his trio in August 2015. He collaborated, learned and played with several big names such as: Larry Grenedier, Jeff Ballard, Mark Turner, Peter Bernstein, Jorge Rossy, Perico Sambeat, Esen Aydin and many more. He recently released an album with Dominik Schürmann and Thomas Moeckel "Esmirallda".
CHRISTIAN GUTFLEISCH (arranger/piano/keyboards)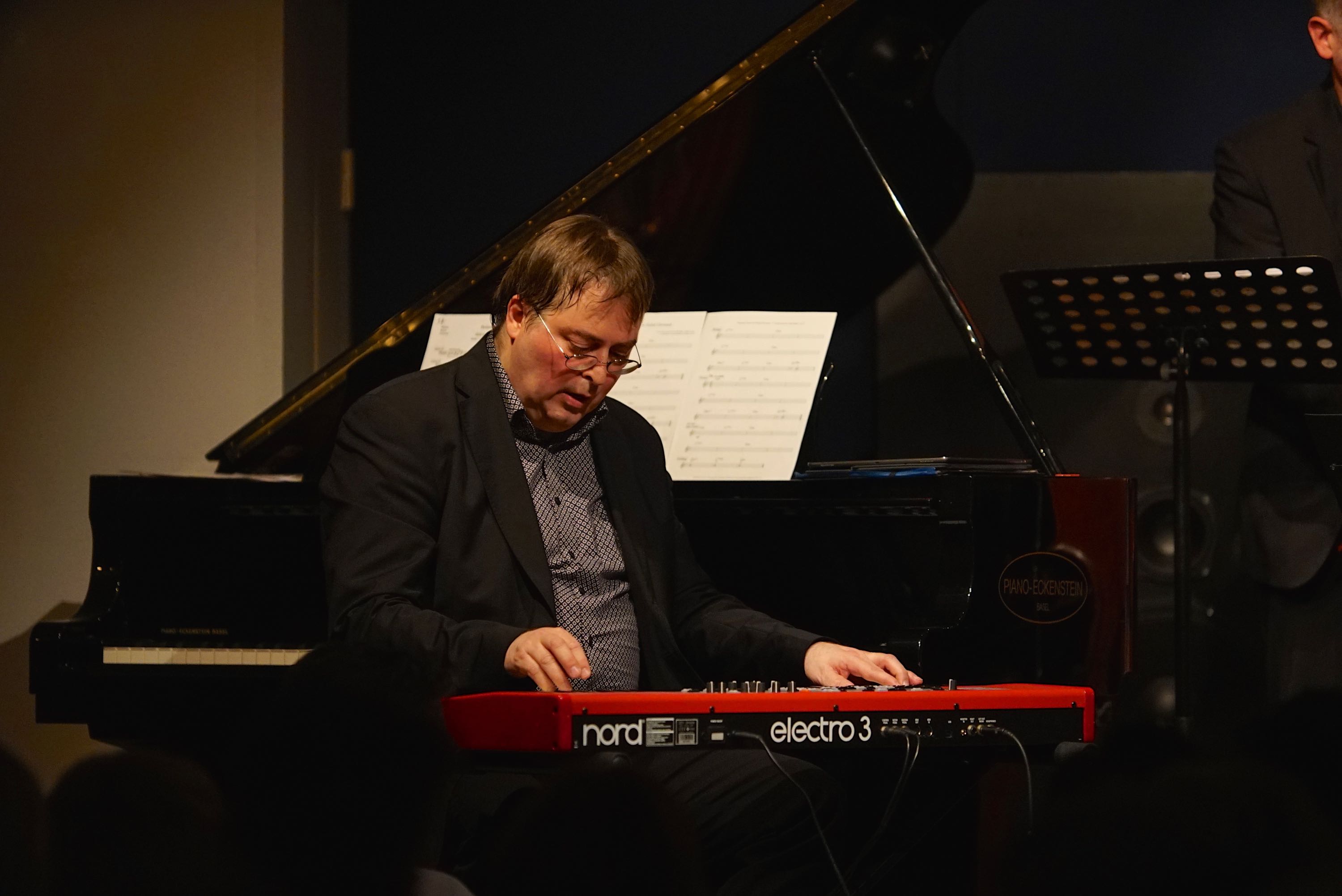 was born on 27.6.1968 in Säckingen/D and grew up in a musical family. After studying jazz piano at the Swiss Jazz School Bern, he was active at Theater Basel and at the Jazzschule Basel. Christian Gutfleisch has performed at countless club gigs and festival concerts with Michael Heitzler (Klezmer), Thomas Moeckel, Picason (Salsa), just to name a few. He performed at the Schleswig-Holstein-Musikfestival with the David Klein's Selma Project where he also accompanied Thomas D, Sarah Connor and Stefanie Kloß. Many of his recordings can be heard on Radio Swiss Jazz including "Let's Do It" recorded with Nina Bradlin for the duo album "Stardust".


www.ninabradlin.
"Broken Hearts"
Live at Parterre One in Basel
Nina Bradlin & Maia Wackernagel, piano
Recently, Nina Bradlin and Maia Wackernagel have performed as a duo and also in a trio formation with the renowned Swiss guitarist, trumpeter, flugelhornist, composer and arranger
has played the piano since she was six. After her classical piano education and master studies in Paris and Rome, she broadened her experience to jazz and free improvisation. Maia Wackernagel's musical activities include chamber music, solo performances, interpretations of contemporary music, filmmusic, artpop, hiphop and jazz. In 2018 she started playing with the African balafon player Ba Banga Nyeck; the two musicians merge African with classical European elements. She has performed various concerts at home and abroad and has produced several CDs. Maia and Nina are currently working on a concert program featuring the music of Michel Legrand.